sailor neptune lookbook
Every outfit worn by Michiru Kaioh/Sailor Neptune
White dress
Turtleneck trumpet style sleeveless white dress with large blue bow detail, worn at a rock concert collaboration with The Three Lights. Paired with matching white gloves (is it hard to play a string instrument with gloves?).
Dark blue dress
Michiru also wears this outfit to play violin in the park under the full moon, but here she is just taking a walk and being offered a bouquet of flowers by a child that is obsessed with her. A knee length blue dress with flutter sleeves and a boat neck, a darker blue bow belt, some interesting dark blue strappy sandals (pay no attention to her lack of toes), and a gold choker necklace.
Festival kimono
A kimono worn at a summer festival. Mustard colored with a brown leaf print, a bright red obi, and a matching bright red bag.
Magenta dress
An outfit for scheming at the park. An a-line, knee length magenta dress with puff sleeves, a white collar, and two rows of white buttons, a white belt, black mary jane shoes with white socks, and Michiru's classic black headband.
Denim vest springtime outfit
An outfit for hanging out in the park. Is utterly timeless and would look perfectly reasonable on a modern instagram feed. A denim?/chambray? vest with gold buttons tied in the front, a lacey pink skirt which we are shown the level of detail of in a closeup, and a matching sun hat and bag that are both brown with leather straps. Haruka is wearing some pre-distressed denim nonsense to complement.
Winter coat
This is the last time we ever see Michiru and there isn't much detail shown in her outfit. A fluffy purple scarf and a light blue winter jacket.
Pink and white springtime outfit
At the park again. An alarming geometric print pink sleeveless blouse, a white pencil skirt, a white belt, and a yellow hand bag we don't get a good view of.
Magenta suit
Worn at some kind of motor sports race Haruka is participating in. A light pink blouse under a magenta cardigan with black piping and gold buttons, a magenta pencil skirt, black flats, slightly ridiculous lacey white gloves, and her favorite black headband. Very elaborate, kind of feels like she is trying to upstage all the other racing girlfriends.
Yellow dress
Michiru wears this dress on only one occasion, to attend an opera with Haruka in private box seats. She's paired it with a gold charm bracelet to accentuate her opera glasses.
Blue dress
Worn to perform a violin/piano duet with Haruka at a party held by Fancy British People. A light blue dress with dark blue layers with a white bow belt, her gold heart shaped charm bracelet from the opera, and matching gold heart shaped earrings.
Yellow bathing suit
In addition to a swimsuit covered in ruffles, she is also wearing a hair bow (that she is seen wearing out of the water at formal occasions), stud earrings, and a necklace. You might think this is an outfit for lounging at the side of the pool but we actually see her swimming laps and later challenging a girl she's never met before to a race.
Purple bathing suit
After her earlier (informal) race with a stranger, Michiru wears this outfit later that day for a more formal race. To demonstrate that she is not fucking around this time, Michiru has upgraded her accessories to a gold, jewel-embellished hairclip. She's also showing that she's the kind of person that coordinates the towel and bath robe she brings to the pool to match her outfit.
Tea ceremony kimono
Worn at a tea ceremony. She is better dressed than everyone else in attendance and makes them all feel terrible about themselves. Features her red bow previously seen at a swimming pool. Light yellow kimono with orange and red flower print, a white robe underneath, and an embroidered red obi.
Pink and red dress
Michiru wears this dress to argue with Usagi and her friends about something, probably murdering innocent people for the good of humanity or something like that. Fitted short sleeve dress with a red top and pink fitted skirt, with a small purple bow. It's worn over a white long sleeved shirt for some reason and paired with black mary janes and a purple choker necklace.
Blue wrap shirt with white skirt
Michiru is wearing this while Haruka's car breaks down and they are forced to ask Usagi and her friends for help. They were probably on their way to something much more fun and elegant. She has a blue striped wrap shirt, a pink shawl, a white and blue skirt, and a pentagonal bag. I was so fascinated by her bag that I had to look up whether those have actually been made and did find a few (all handmade, vintage, or very expensive).
Blue school uniform
A uniform for the school Michiru attended before Mugen Academy, possibly a junior high school. She makes a point of wearing her headband to personalize it.
Mugen school uniform (cold weather)
High school uniform in unfortunate color scheme, plus a headband.
Mugen school uniform (warm weather)
Warm weather version of Michiru's high school uniform. Looks a bit more like something she would actually choose to wear.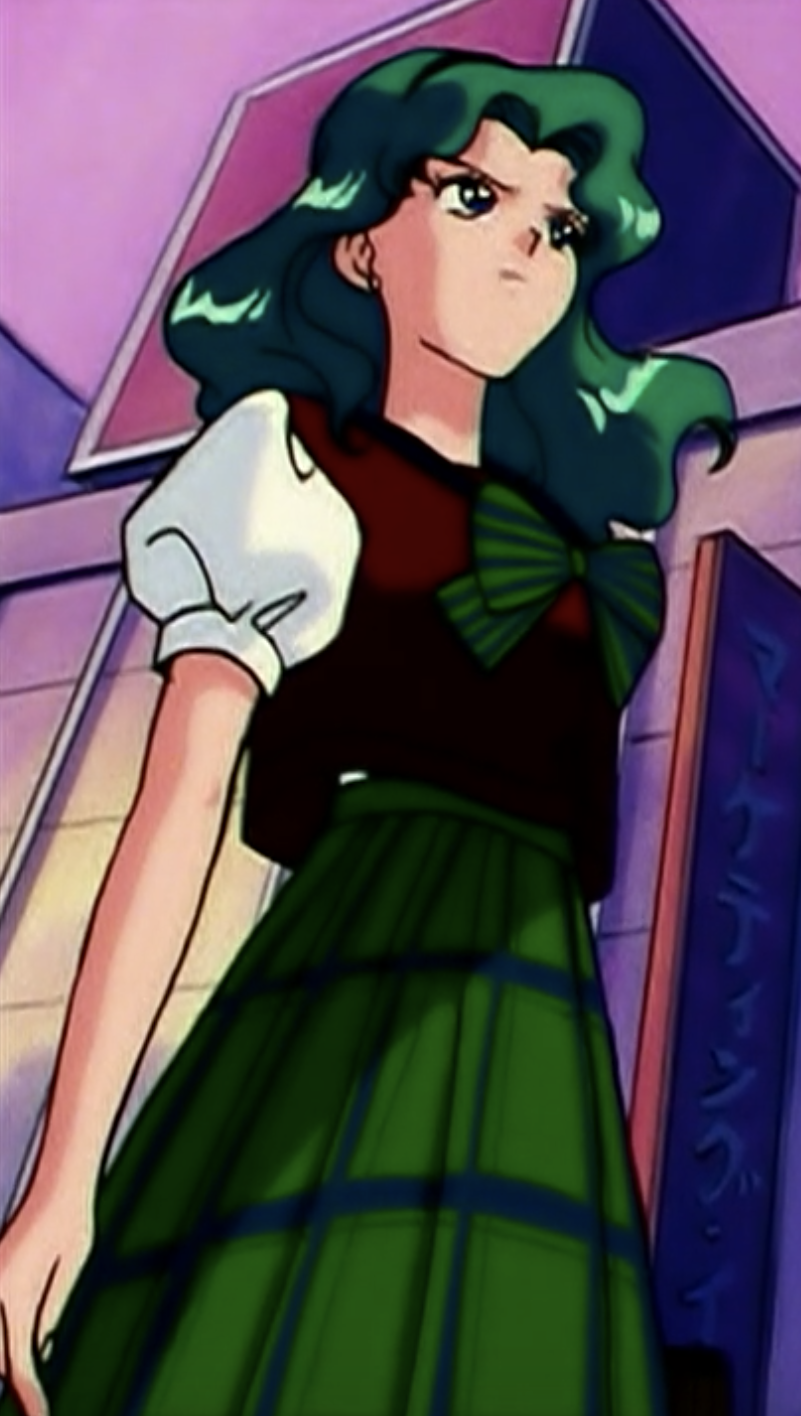 Frumpy thing
Michiru wears this outfit a lot, I imagine because it's easier to draw than a lot of her better ones. The colors vary but it's always some variation of a blue sweater over a pastel shirt with a long skirt. She wears either a pink or red hair bow and some nice leather shoes with it.
White dress with rose
Michiru is wearing this dress the second time she meets Haruka, performing violin on a cruise ship. She has a very tense conversation with Haruka about responsibility and the ocean. A white dress with many ruffles, giant flutter sleeves, a bow belt, and a large rose embellishment in front. Paired with earrings and a pearl necklace that suits her well and I'm surprised never shows up again.
Pink trench coat dress
Pink trench coat style dress worn on a few occasions, including this "love competition" that Michiru and Haruka win but decline to receive their prize because they were just fucking with everyone and thought it would be funny. Paired with Michiru's black headband, a gold necklace, and some barely visible but kind of ugly looking pink boots.
Long pink dress
Only visible for a few seconds in one of the Sailor Moon movies since Michiru is barely in it. She's hanging out in a cafe with Haruka and Setsuna while it snows outside. Seems to be a long, button-down pink dress layered over a white turtleneck sweater with a light yellow jacket.
White bathing suit
Just a simple white bathing suit (with stud earrings) for floating at the pool. She has a magical green and gold watch that can only be used to communicate with her girlfriend that appears to not be waterproof.
Black bathing suit
A black bathing suit with sheer panels paired with gold earrings worn at a hotel pool. An outfit you could take from the pool to a gala. Amazing. You can tell Haruka is just a little bit embarassed. The sunglasses don't really go well with it, I wonder if Haruka picked those out.
Blue bathing suit
A blue bathing suit for lounging by the pool Thinkin' About the Sea, paired with a blue men's shirt (presumably one of Haruka's). No accessories with this one, probably because of the big plastic/metal ring detail. She does bring a towel in a complementary color as is the standard we have come to expect from her.
Sailor Neptune
She will throw a planet at you